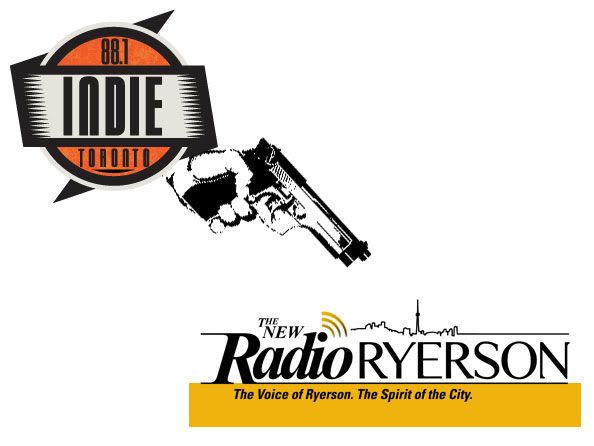 As many may remember after CKLN got bounced off the air in 2010 the then vacant 88.1 fm frequency became open for anyone who wanted to make a play for it. Last year PROUD FM, an existing gay themed radio station which is currently at 103.9 fm made an application to move to 88.1 fm, which would have given them a more powerful signal than the 60 watts they then held. That application opened the floodgates for all other comers and a deluge of over 20 applicants followed. These included;
* A couple more requests to move frequencies (besides PROUD FM) from ZOOMER Radio, CARN FM and CHOQ, a small French language station.
* A number of various ethnic station applications including one from CHIN.
* A number of all news and talk formats including an all business station called BIZ 88
* A number of various easy listening stations with names like TOWER 88 and METRO 88
* Two French language applications including one from the CBC
There were also a few specific formats including an application for a Blues station, a Christian station and and application for a station focused on Independent Music called INDIE 88.
INDIE 88 PROMO
(Note that I have already written about these applications
on this page
)
Oh right; Then there was Ryerson's attempt to take back the license they lost when the CRTC deservedly shut down CKLN back in 2010. The Ryerson application (which I read along with each of the other applications) was a study in disingenuous evasion and denial of all of the basic requirements of a Community Station. Instead Ryerson offered up a sense that they were naturally entitled to a license. They were backed in this delusion by the National Campus Radio Association who should have known better, but where so desperate to get a Toronto station and to redo the "injustice" of the 2010 shutdown of CKLN.
I attended the CRTC hearings back in April and was frequently amazed by how clueless and unprepared the Ryerson group was, as well as their smug attitude. This perception was shared by some of the other participants and spectators I spoke to. The questions for the Ryerson applicants from the CRTC Commissioners at times seemed to catch Ryerson Radio's Station Manager Jacky Harrison completely off guard and as the days went on her attitude began to change from smug to confused.
I must say that besides enjoying watching the various Ryerson/Ex CKLN cronies getting clubbed like baby seals once again I also got directly involved in these hearings by filing an intervention of my own.
My brief was not primarily about Ryerson's application but rather a positive intervention in support of another applicant, namely INDIE 88.
INDIE 88's application was from a small group who own two other small town stations and was for an Independent music focused station which would seem to be roughly equivalent to the original CFNY back in the 1980's, you know before they started sucking. In my brief a explained in some detail the history of such a station and the role it played in supporting the local and national music scene as well as pointing out the benefits to the larger community. I also referenced an earlier set of CRTC hearings back in 1989 (when CFNY changed ownership) in which there was some debate over whether a Campus/Community station, like Ryerson's, could do as effective a job in supporting local and Canadian independent talent. I argued that it could not.
As part of the application process Rye-High was allowed a chance to respond to points in writing to their heart's content. Instead they decided to dismiss me with a couple of snide insults. To put things in perspective most public interventions are usually only a paragraph or two. By contrast mine was a twelve page analysis with sourced quotes from previous CRTC hearings as well as various media reports dating back to the early 1980's. At the risk of bragging my brief was much more detailed and heavily researched than is normally the case. And Rye-High's only response was a couple of throwaway cheap shots? Classy as always.
And it's not just me either, three other members of the public sent in submissions that were specifically opposed to Ryerson's application (mine was actually in support of INDIE 88 but since it impacted Rye-High's application they were entitled to a response). These submissions were also lengthy and detailed critiques of Rye-High's application. They pointed out, among other things;
* That Rye-High's application did not have sufficient community involvement as required by the CRTC
* That Ryerson wildly exaggerated the extent of student support when the actual student referendum got only a ten percent turnout. And that was after extending voting hours and having Ryerson profs using class time to promote the cause.
* That the surveys submitted as part of the application, which were used to argue that there was an audience demand for such a radio station, were in fact sloppy, full of of blatant errors and not true audience polls.
* That the Rye-High application was in effect little more than a Trojan Horse to allow the disgraced CKLN die-hards back on the air.
As might be expected Rye-High's responses to these detailed critiques were evasive and disingenuous and relied on a dismissive attitude which they seemed to assume the CRTC would simply share. The replies often took refuge in simply saying that Rye-High's radio staff were "confused" and "mystified" and "at a loss to understand" what the problem was. Besides, they argued, the complainants were obviously biased so why should Rye-High even have to waste time on this petty nitpicking right? Wrong again. And keep in mind this was after witnessing the brutal ass-whipping handed out to CKLN last time, not to mention the beatdown recently handed out to KICK FM in Winnipeg which the NCRA at least should have been fully aware of.
Besides supporting the INDIE 88 application on it's own merits I think this was the best way to finally lance to the nagging CKLN sore that has been festering for so long. The fact that the CRTC granted the license to a small independent group rather than any of the various major corporate players who applied (including the CBC) pretty much destroys the narrative that the old leftist CKLN old guard have been spinning for years that they were the victims of a vast corporate conspiracy to seize control of the airways. Not that they won't keep spinning that whopper but to an ever smaller audience. In fact the online response has been so far quite positive.
Another thought; If the CRTC had granted the license to PROUD FM (or CARN) then they would have vacated their current signals thus allowing Rye-High/CKLN another chance at what would then be the last open signal left in Toronto. Now that door is finally closed for good. So at long last it's over. Stick a fork in 'em, they 're done. The mighty Rye-High has struck out again.