This week the CRTC announced that PROUD FM has applied for a signal increase. Broadcasting on 103.9 FM at 60 watts, PROUD is asking for an increase to 250 WATTS, an increase that would allow them to reach the bulk, if not the entirety of Toronto and much of the suburbs. Coincidentally this increase to 205 WATTS is exactly the same size as that formerly held by CKLN, the now defunct radio station at Ryerson at 88.1 FM.
PROUD FM (the actual call-letters are CIRR-FM) is the "Gay Themed" radio station owned by the Evanov Corp which has been broadcasting since 2007 with a checkered history of format tinkering, mass firings, abrupt walkouts over lack of pay and a recent closing of their offices and studios from downtown's "Gay Ghetto" on Church street and a move to the boondocks. The coverage PROUD FM gets from the local gay papers has gone from supportive in the early days to mostly critical for the last several years as most of the original staff either quit or were fired. The constant knock against their programming has been that while originally they made an attempt to feature gay artists they soon dumped much of this in favour of "music that gay people actually listen to". This seems to consist mainly of Madonna, Lady Gaga and lots of pretty mainstream dance music. The gay community seems to be pretty disappointed, much the way that the black community became disappointed in THE FLOW and CARN FM.
Speaking of which; WTF is this!?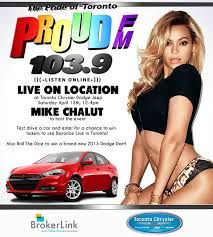 That PROUD FM would now be asking for 250 watts is ironic since it was Bill Evanov, owner of PROUD FM who was first out of the starting gates in applying for CKLN's signal once CKLN had it's license yanked by the CRTC in a very rare move prompted by the truly historic incompetence and dishonesty of the station's left-wing activist management and that of the Ryerson Student Union who had seized control of the station in 2009. Evanov barely waited for the rotting corpse of CKLN to cool before bragging to the media of his intention to apply for the vacant 88.1 signal, thus setting off a feeding frenzy of over twenty other applicants for what would be Toronto's last open FM signal. Those other applicants included the heavyweights like Moses Znaimer, CHIN and the CBC to lightweights like a small group calling themselves INDIE 88 not to mention Ryerson's attempt to get the signal back. In a surprise upset the CRTC awarded the signal to INDIE 88 last year.
As for PROUD FM; they got nothing, squat, nada, zippo, the big goose egg. At the CRTC hearings last April (which I attended) PROUD FM's testimony included the usual claims that they needed the new, more powerful signal or they would have to go out of business as their 60 watt signal could not go beyond the downtown core. Evanov had been having a good year since they had just been granted a new Gay themed AM station in Montreal. All seemed to be going pretty well until the CRTC Commissioners pointed out that PROUD FM did not actually need to move to 88.1 FM to get a better signal since they could get a signal increase where they were albeit this would be a smaller one than they were shooting for by moving.
This was an important point since the CRTC insists that before an applicant asks for some sort of move or upgrade that they will have exhausted the resources they already have. The representatives from PROUD seemed baffled by the question the Commissioners were asking and they never really recovered. However while PROUD may have been shot down, unlike most of the other applicants they were not completely empty handed as the still had their existing 103 FM signal and a CRTC practically daring them to apply for a signal increase. I'm surprised it took them this long to follow up.
This time their odds should be pretty good. They already have the signal so unlike last time their won't be any other competing bids to fight off. There may still be an issue if the increase turns out to interfere with a neighbouring signal however, but it's too early to see if that is indeed the case. There is also a sneaking suspicion among many that Evanov, who also owns a dozen other radio stations, has no real commitment to the "Gay Themed" format and intends at some point to dump it entirely in favour of some more mainstream format once he has a signal capable of reaching the entire city, more or less.