On the hundredth anniversary of the Treaty Of Versailles I wanted to take a look at how some veterans of WW1 had an effect on the new and coming popular music scene that was about to become the dominate cultural movement of the 20th century; Jazz, Blues and Country music.
The Jazz Age started in America almost as soon as ink on the Versailles Treaty was dry and quickly spread to Europe, Canada, Australia, New Zealand and eventually further afield to Japan, Latin America, Caribbean and a few parts of Africa and Asia. The unprecedented spread of these new musics was facilitated by two modern inventions. The Gramophone and the radio. Gramophones had been around since the 1890's but for much of that time they did not really become affordable until the 1910's and aside from Ragtime, some black Spirituals and a bare handful of quirky exceptions, record companies did not start to record any recognizable Jazz, Blues or Country records. Once they did the sales of these records took off with amazing speed as there was now a solid number cadre of young people and bohemians eager for the exiting new sounds to shake off the exhausted cobwebs of the now discredited Victorian age. Before the War Gramophones were playthings for the middle classes, they were now cheap enough for the working classes as well and even the poor rural and black folks, meaning there was now a market for music they would buy. Since Gramophones (unlike the later phonographs) were not electric and instead were wound-up like a jack-in-the-box they could be used in the most remote and poor cabins of the Mississippi Delta, Appalachia, the Ozarks, Dust Bowl Prairies and Newfoundland outports. This was even somewhat true for parts of Africa, the Caribbean and Latin America where records would be exported and have an influence on the evolution of music such as Latin Jazz, Salsa, Ska and various African Jazz genres.
Radio's rise would be even more explosive. Before WW1 there were literally no radio stations anywhere in the world other than a few hobbyists. As the Jazz age started there were radio stations throughout the world with millions of listeners in an unprecedented growth rate. By contrast television's growth took more than a decade, albeit slowed it is true by WW2. Radio would for the first time allow for music to be brought to the masses nationwide and even internationally just as music from the Bohemian fringe or the wildest hinterlands was being recorded.
In spite of the quick creation of this infrastructure the number of Jazz Age artists who had been veterans of the recently passed WW1 is surprisingly small. One reason might be that America's involvement in the war was rather brief and most of these artists were either black or rural or too young and thus far less likely to be drafted. However there were a few;
James Reese Europe;
Bandleader James Reese Europe is widely seen as being one of the most important figures in the transition between Ragtime and Jazz. Already a well known figure in New York society for his bouncy dance bands, he had also made a number of successful records, being the first Ragtime black band leader to do so. These records reveal his take on Ragtime was energetic but essentially conventional (and some are string bands that have no brass instruments) although he did allow some short solos and this along with the syncopated beat displayed the basic foundations of Jazz. His band became popular headliners at the Clef Club in New York but when WW1 broke out Europe immediately signed up and suggested the formation of a band that would entertain the Allied troops and quickly formed a band called the Hellfighters. Although the US army was still segregated the army did allow for black officers and Europe was made a lieutenant. Besides serving under fire and winning the French Croix De Guerre as a unit the Hellfighters became a musical sensation in France and Britain and returned home to as triumphant heroes leading a victory parade in Harlem. He then returned to his post but didn't get much chance to capitalize on his new fame because in 1919 he was murdered by one of his own drummers in a pay dispute. We can never know what effect Europe would have had on the Jazz age as his bands were not really proper Jazz bands. Perhaps the ambitious and solidly professional Europe would have adapted and updated his sound as Paul Whiteman would later do, or maybe he would have been left behind as a respected but essentially no longer relevant elder founder like WC Handy. Either way he would have been an important figure.
JAMES REESE EUROPE;
Some other notable members of Europe's Hellfighters Band or those with a Europe connection included;
Noble Sissle (1885-1975) ~ Recruited by Europe for his Society Orchestra before the war as a song and dance man, he had already made successful recordings by 1917. Sissle followed Europe into the army and helped organize a new band. After the war he returned to New York and teamed up with pianist Eubie Blake, who had been in Europe's pre-war band but had not joined up, and became a highly successful duo with hits like the classic "I'm Just Wild About Harry" (written by Sissle) and the musical "Shuffle Along" throughout the 1920's. Sissle & Blake also became one of the first musical acts to make a sound video. He had a long life, dying in 1975.
NOBLE SISSLE & EUBIE BLAKE;
Vernon Castle (1887-1918) Although not a musician at all, British born dancer Vernon Castle and his wife Irene became fashionable stars in the 1910's by adapting ballroom dancing to modern ragtime music. To do so they worked with black bandleaders James Reese Europe and Dan Kildare. The Castles helped popularize ragtime to a respectable audience of young white upper middle class sophisticates who would have avoided a ragtime dance hall and got the attention of white bandleaders like Paul Whiteman who would be important figures of the early Jazz Age. Like James Reese Europe, Castle himself would not get to see how things would develop. The aristocratic Castle enlisted enlisted in the new British air force and survived the war only to die in a plane crash in 1918. Irene would continue to have a successful dance career in New York for many years.
IRENE & VERNON CASTLE;
Rafael & Jesus Hernandez ~ New York based Puerto Rican brothers who were recruited by Europe along with over a dozen fellow Puerto Ricans. After the war they returned to New York where Rafael had a long career as a band leader and composer of a number of songs that made him a star in Cuba and Puerto Rico, where there are a number of buildings and streets nameed after him. He died in 1965.
RAFAEL HERNANDEZ ~ "MADRIGAL";
Opal Cooper (1889-1974) ~ Singer with Europe's pre-war band as well as being a banjo playing song & dance man, Cooper also enlisted but separately from Europe and ended in a different unit. Before the war in 1912 he recorded a couple of comedy songs and after the war he briefly led James Europe's band after his death but soon returned to Europe (the continent) where black musicians could get better treatment than in the USA and he had a long career as a nightclub singer along with making a few other recordings none of which received notice in the USA.
James "Tim" Brymn (1881-1946) ~ Known as "Mr Jazz Himself", Brymn was James Europe's greatest rival. Originally from North Carolina but having a formal musical education at the National Conservatory in New York, by 1900 he already had a successful band as well as being a solo ragtime pianist and had written a few hit songs. Like Europe he enlisted in the army and organized a band called variously the Seventy Black Devils, Black Devil Orchestra, and often advertised as "The Overseas Jazz Sensation." After the war he would take over James Europe's position at the Clef Club and would record several albums into the swing era.
JAMES BRYMN ~ "COCONUT GROVE JAZZ"
Frankie Half Pint Jaxon (circa 1896-1953) ~ Half Pint Jaxon (real name Fank Jackson) was the most flamboyant figure in black music, or any music, of the early Jazz Age. A diminutive, 5 ft 2, more-or-less openly gay singer who sang ribald blues in a weeping flasetto and sometimes performed in drag, he had already established a career in the black medicine show circuit travelling from his Kansas City base to Texas where he shared stages with the young Bessie Smith and Ethel Watersand then the big city vaudeville stages of the East Coast. He served in the US army in 1918-1919 and rose the rank of sgt. After the war he would have a successful career for the next twenty years on records and radio working with Duke Ellington, Bessie Smith, Bennie Moten, King Oliver, Freddie Keppard, Cow Cow Davenport, Tampa Red and "Georgia Tom" Dorsey and the Harlem Hamfats and would be an influence on Cab Calloway and H-Bomb Fergussion. With the outbreak of WW2 he quit the music business and worked for the war department in some capacity. His death is a mystery with some sources giving the date as 1944 while Jazz historian Brian Berger found a Veterans Dept graves registry for 1953, still others claim he lived untill 1970. Although he was fairly well known in Jazz circles in the 1920's & 30's, recorded dozens of records and should be seen as a pioneering figure in Gay culture he has been all but fogotten today.
FRANKIE HALF PINT JAXON ~ "
Sam Davis (1889-1980) ~ (no relation to Sammy Davis jr) Was a New Orleans born Ragtime pianist, praised by Jellyroll Morton, who travelled throughout the Midwest. He was drafted in 1918 and spent the war playing in a USA Army Band but did not actually serve overseas. After the War he continued his life on the road before finally settling in upstate New York but he gave few interviews and never made any proper recordings aside from a couple radio transcriptions.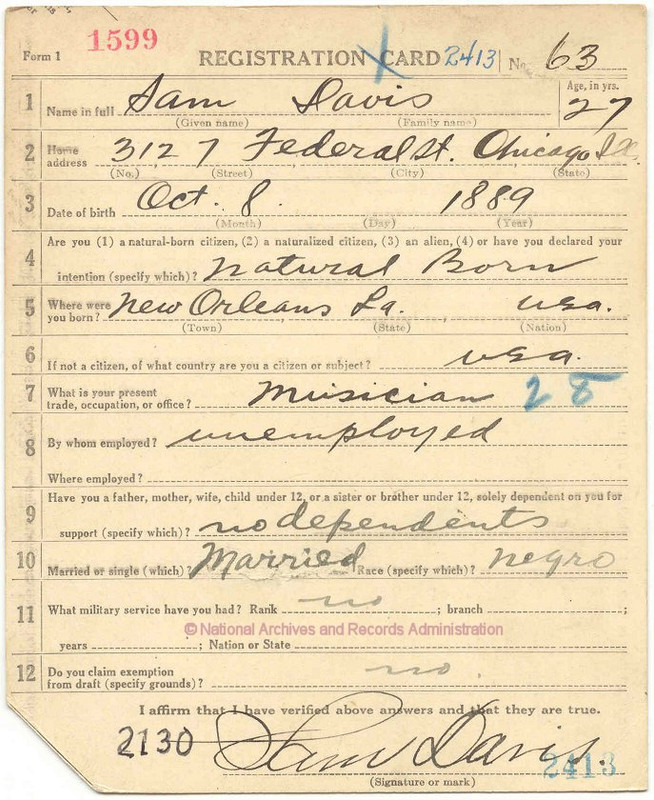 DRAFT REGISTRATION CARD FOR SAM DAVIS
Eddie Edwards (1891-1963) ~ New Orleans trombonist with the Original Dixieland Jazz Band (ODJB), famous as the first Jazz band to actually record (in 1917). They would score a number of hits (including his own "Sensation Rag") and tour to Britain and France until Edwards was drafted into the US Army in 1918. He served for over a year and upon returnng he would return on and off to music into the 1940's alternating with stints during the Depression working at a newspaper stand and at the YMCA even as his style of Jazz became passe compared to Swing.
THE ORIGINAL DIXIELAND JAZZ BAND;
Minor Hall (1897-1959) ~ A New Orleans based drummer who played with Kid Ory, King Oliver and Louis Armstrong Hall was drafted and served two years in WW1 but details of his service are scanty. Uniquely he also was drafted again in WW2 at the age of 45 and served another short stint before getting an honorable discharge due to his age whereupon he got a job in a military aircraft defense plant for the duration. Afterwards he continued his Jazz career with Ory including appearing in movies "Mahogany Magic" and "The Benny Goodman Story".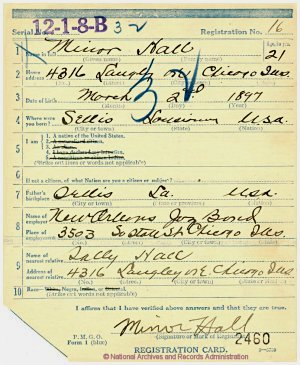 DRAFT REGISTRATION CARD FOR MINOR HALL
KID ORY ~ "MUSKRAT RAMBLE";
George Reynolds (1888 - 1976) ~ A minor St Louis pianist, Reynolds was drafted and raised to the rank of Corporal by the time of his discharge. After the War he travelled back and forth between St Louis and Chicago making a few minor recordings in bands led by trombonist Preston Jackson and something called the Richard M. Jones' Jazz Wizards in the 1920's and 30's. Mostly a sideman he never recorded as a soloist or band leader and Jellyroll Morton considered him a mediocre player. In the 1950's he returned to St Louis for good living quitely and playing occasionally but not recording.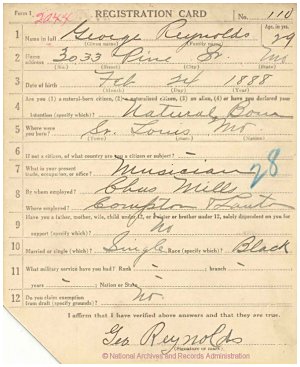 DRAFT REGISTRATION CARD FOR GEORGE REYNOLDS
THE RICHARD M JONES JAZZ WIZARDS ~ "IT'S TIGHT JIM";
Willie "The Lion" Smith (1893-1973) ~ James Reese Europe and Vernon Castle might not be proper Jazz figures but that could never be said about Willie "The Lion" Smith. One of the great Jazz pianists of the 1920's known for his lightning fast barrelhouse playing as well as his image of the flashy sportin' life pianist with his jaunty suspenders, gold rings, derby hat and cigar and larger than life swagger. He had been an infantryman in the Great War (but not in the Hellfighters) and had seen some action. Exactly the nature of his service is in debate. Not known for false modesty or any other kind, Smith always claimed he had been a sergeant but the records say he was only a private, he also claimed he had gotten his nickname "The Lion" for his bravery on the front, however there is no record of that either and it would appear that he had already been using that name during a brief career as a boxer and others drolly noted that the Lion's roar was worse than his bite. At any rate he would have a long career continuing into the Swing Era and into the post WW2 era with his barrelhouse playing an influence on the later Be-Bop and Boogie Woogie styles of Fats Waller, Pete Johnson, Art Tatum and Oscar Peterson up to R&B and R&R pianists like Merrill Moore, Moon Mullican, Jerry Lee Lewis, Little Richard, Ray Charles and Charlie Rich.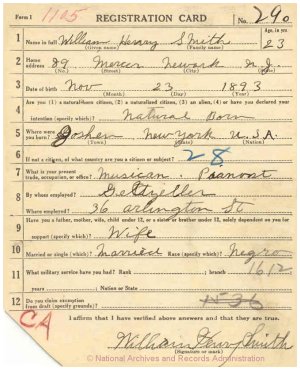 DRAFT REGISTRATION CARD FOR WILLIE "THE LION" SMITH
WILLIE "THE LION" SMITH ~ "FINGER BUSTER";
Japser Taylor (1894 -1964) ~ A respected and prolific drummer, xylophone and washboard player from Texarkana who had recorded as early as 1917 with WC Handy, Taylor served in France with the infantry. After the War he moved to Chicago where he recorded with Jellyroll Marton, Jimmy O'Bryant, Jimmy Blythe, Clarence Williams and Freddie Keppard. Like many other musicians he found work drying up during the Depression and became a cobbler, returning to music after the WW2 recording with Art Hodes, Natty Dominique and some lesser lights as well as his own band until his death.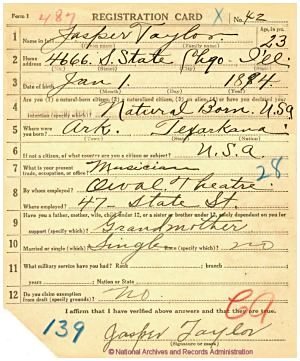 DRAFT REGISTRATION CARD FOR JASPER TAYLOR
ART HODES QUARTET ~ "WASHBOARD STOMP";
Will Vodery (1885-1951) ~ A bandleader originally from Pennsylvania then based out of Washington DC and Harlem, New York as a noted composer/arranger. Like James Europe he enlisted during the war and organized yet another band. After the war he made it to Broadway where he worked on popular musicals like "Showboat", worked with George Gershwin and Will Marion Cook and became an influence on the young Duke Ellington who he worked with at the Cotton Club. Oddly for a guy with such a long and successful career he doesn't seem to have made it into a recording studio on his own.
THE VODERY GIRLS ~ "PUTTIN IT ON";
=====================================================================
BRITISH JAZZ MUSICIANS;
Jack Hylton (1892-1965) ~ A British pianist and bandleader who became one of the first British Jazzmen earning the title the British King Of Jazz. Hylton had been a singer and pianist in various cafes as well as in a dance orchestra before the war and served as regimental musical director. His post war career was not notably successful and he ended up getting fired from his own band but by the mid twenties he had formed a proper Jazz orchestra which became highly successful through heavy touring, radio appearances and recordings, he also became a promoter bringing prominent Americans to the UK including Louis Armstrong, Duke Ellington and Glenn Miller. After WW2 he wound down his performing but continued as a promoter into just before his death in 1965.
JACK HYLTON ~ "LIFE IS JUST A BOWL OF CHERRIES";
Henry Hall (1898-1989) ~ Another British bandleader of the interwar era. Before the war Hall had been a trumpeter, pianist and composer for the Salvation Army before joining the artillery where he played in the regimental band. After the war he eventually formed a society dance band which played dance halls and on the BBC where he became a fixture throughout the thirties and entertaining the troops in WW2. He continued his career into the sixties before retiring, dying in 1989.
HENRY HALL;
Percival Mackey (1894-1950) ~ A London based pianist who played as a travelling entertainer in a one man act that included ventriloquism, magic and comedy as well as part of a troupe. After serving in the war he formed a dance band that would include popular singer Al Bowly as well as being musical director for musicals, film scores and for the record label EMI. He died in 1950.
PERCIVAL MACKEY;
Jack Payne (1899-1969) ~ A British pianist who served in the Royal Air Force where he discovered Jazz from visiting Americans. After the war he formed a dance band which performed on the BBC and later became the first band to perform on TV for the first BBC TV broadcast in 1929. He continued at the BBC until he retired in the sixties dying in 1969.
JACK PAYNE ORCH ~ "TIGER RAG";
Victor Silvester (1900-1978) ~ Enlisted in the British Army at the age of sixteen (he lied about his age) he served as a private and saw action at the Battle Of Arras and even served on a firing squad before his actual age was discovered and he was sent home. Before getting there he volunteered as a stretcher bearer on the Italian front and was wounded thus getting a medal from the Italian govt. Before the War he had been studying music and returned to his studies at Trinity College along with dancing. He would later start his own dance band and dancing school while recording dance tunes which became wildly popular in the UK in the 30s and into the Second World War. While his band would do some Big Band Jazz numbers it was more of a Society Dance Band than a Swing band and by the 1950's was clearly out of style. In the Rock & Roll era he tried to do string-laden versions of pop songs and show tunes until his death in 1978 after which his sons continued the band to this day.
VICTOR SILVESTER ORCH ~ "DEEP PURPLE";
Debroy Somers (1890-1952) ~ Another British teen who lied about his age to enlist, although he done so in peace time in 1905. He rejoined during the War and served as a sergeant and military bandsman. In the twenties he would form another one of those sort-of-Jazz dance bands of the era rather like Paul Whitemen's and reworked George Gershwin's so successfully that Gershwin himself joined them for a UK performance. He and his band appeared in a few movies and scored a hit with "Amy, Wonderful Amy", a song about Amy Johnson, Britain's Amelia Earhart. Somers continued through WW2 but died before the R&R era in 1952.
DEBROY SOMERS ORCH ~ "OUT OF THE SPECIAL";
==============================================================
COUNTRY & WESTERN SINGERS;
Ken Maynard (1895-1873) ~ Now largely forgotten, Maynard was an important figure in early Country & Western, in fact he helped put the "Country" in C&W music. He had actually worked as a cowboy before enlisting in the army. After the war he headed off to the new town of Hollywood to try his luck where he got a job in the new silent film industry as a stuntman in western films before graduating to acting in them. Unlike other western film stars like William S Hart and Tom Mix, Maynard managed to continue into the sound era and in a 1929 film he became the first singing cowboy. Unlike Gene Autry (who he would later discover) Maynard was never really a professional singer but could play a little guitar and fiddle and sing in a rather reedy voice which while crude did sound authentically western. He never had any real hit records and had little interest in pursuing a singing career but his movies were successful enough to encourage the studios to make more specifically musical movies using Gene Autry who had been a supporting player in a few Maynard films and who Maynard encouraged. Autry's singing cowboy movies were a smashing success and his star soon surpassed Maynard's. Changing tastes were not Maynard's only problem, although supportive of Autry, Maynard had earned a reputation as hard drinking and quick tempered and prone to brawls. By the end of the thirties his career was effectively over and his fortune gambled away. He still had a few friends, especially Autry, who gave him some money and arranged for bit parts and he died in 1973.
KEN MAYNARD ~ "THE COWBOY'S LAMENT";
Jules Verne Allen (1883-1945) ~ He called himself "The Original Singing Cowboy"; A title which was not entirely accurate, but he was certainly one of the first to record. Details of his life are hard to pin down because he would later write an autobiography which was, to say the least, highly misleading. But he had apparently spent some time as a working cowboy including claiming stints as a rodeo rider (which may or may not be true) and a town sheriff (probably not true) while a census actually lists him as a barber before enlisting in the US Army in 1905 and again during WW1 where he entertained the troops doing rope tricks and singing cowboy songs as well as appearing as a blackface minstrel. After the war the census reports him as working as an autoworker for a few years until the success of singers like Carl Sprague, Vernon Dalhart and Ken Maynard lured him out to Hollywood to try his luck at being a singing cowboy in the 1920's. He did not get a movie contract but he did get a recording contract from Columbia Records legendary talent scout Ralph Peer who had discovered Jimmy Rodgers, Fiddlin John Carson and the Carter Family. He would record a number of songs including the classic "Jack Of Diamonds" between 1928 - 29 before the Great Depression and changing tastes in the 1930's ended the careers of rustic singers like him. He continued to perform at rodeos and on radio in the Southwest and wrote a successful and self-glorifying autobiography which included a number of songs and poems and a glossary of cowboy terms called "Cowboy Lore" much of which he seems to have made up or plagiarized from John Lomax. He also managed to collect a number of ex-wives before dying in 1945, completely missing the folk revival that would have no doubt loved the charming old rogue.
JULES VERNE ALLEN ~ "JACK OF DIAMONDS";
Carl T Sprague (1895-1979) ~ Less flashy than Maynard or Allen and also less scandal prone, Sprague lived a quieter and longer life than either. He beat both of them to title of "Father Of The Singing Cowboys" with his 1925 recording of "When The Work's All Done This Fall" which sold 900,000 copies, later certainly reaching a million. There had been an earlier million selling singing cowboy record from Vernon Dalhart but he while he was from Texas Dalhart was no cowboy, and was in fact a trained tenor who had appeared in Gilbert & Sullivan light operas and recorded several successful pop songs in the 1910's. Sprague on the other hand had really grown up on a ranch in Texas and worked as a cowboy before joining the army in WW1. After the war he went to university at Texas A&M where he performed cowboy songs on the campus radio station and was offered a recording contract in 1925 scoring the above mentioned hit and another in "The Dying Cowboy" along with a few others until the Great Depression ended his recording career in 1930. He would live quietly until the 1960's folk revival discovered him and he would play the folk circuit and record another album before dying at 1979, thus the first of the classic Singing Cowboys was also the last.
CARL T SPRAGUE ~ "O BURY ME NOT ON THE OLD PRAIRIE";
David Miller (1883-1953) ~ A less well known figure of the early C&W era. Miller had a career as an obscure medicine show performer as a singer/guitarist before joining the the army during the war. His military career was brief however as he developed an eye infection which left him effectively blind. Even worse the Army denied him a disability pension saying that he had developed his infection before he enlisted. With no better options he pursued his singing career in the new record business starting in 1924 with Paramount Records and then the newer radio with some success although never becoming a star. He kept it up through changing tastes into the Honky Tonk era eventually sharing stages with Patsy Cline and Hawkshaw Hawkins. By that time his style was positively archaic.
DAVID MILLER ~ "JAILHOUSE RAG";
John Jacob Niles (1892-1980) ~ An odd but influential figure of the post WW2 Folk revival, Niles came from Kentucky from a respectable background of a musical family and his father being a active in local politics. When America entered WW1 he enlisted as a lieutenant in the fledgling Airforce and was injured in a plane crash. After the war he stayed a while in France studying music and hanging out with the Bohemian set like Gertrude Stein. Returning to the USA he began compiling traditional folk ballads and touring the country singing them in a ghostly Renaissance style falsetto while playing an unwieldy dulcimer he made himself. He also published song books and did some recordings well into the late 1950's Folk Revival era when he became an influence of the likes of Joan Baez, Judy Collins, Bob Dylan and Peter, Paul & Mary although his style was too idiosyncratic to reach a larger audience. He continued to play on and off until his death in 1980 when he was into his nineties.
JOHN JACOB NILES ~ "GO WAY FROM MY WINDOW";
================================================================
PRE WW1; There actually were a few veterans of pre-WW1 wars who made it into the recording era.
Harry McClintock (1882-1957); One of the important early folk singers, known for the classic "Big Rock Candy Mountain" and "The Old Chisholm Trail". Born in Tennessee, he ran away to join a circus then worked the railroads and merchant marine before enlisting in the Spanish-American War in 1898 serving in the Philippines as a mule-team packer for supply trains. After that he went to China during the Boxer Rebellion in 1900 as a reporter. Back in the USA he joined the IWW (AKA the Wobblies), a radical anarchist union and spent the next forty years as a travelling minstrel singing folk and labour songs both his own as well as publicizing the songs of Wobblie songwriter Joe Hill. In the 1920's he began recording sometimes under the name of Haywire Harry being a major influence on Woody Guthrie, Pete Seeger and Cisco Houston. He died in 1957 just before the Folk Revival that certainly would have made him a star again.
HARRY McCLINTOCK ~ "THE BIG ROCK CANDY MOUNTAIN";
Henry C. Gilliland (1845-1924); A fiddler from Texas Gilliland became one of the first authentic Old Time Musicians to record when he joined fellow Texan Eck Robertson to a recording session in New York in 1922 and recorded a single of "Arkansas Traveler" / "Turkey In The Straw" which became a surprise hit kicking off the start of the country music record industry. Originally from Missouri Gilliland was a 74 year old veteran of the Confederate Army who usually performed wearing his old uniform. Although Gilliland took the lead on at least one of the songs top billing went to Roberston as he had arranged to session and was known as a championship fiddler. For years the story about this legendary session was that they had simply showed up at Victor Studios demanding an audition with Gilliland in his CSA uniform and Robertson in full cowboy gear and the intimidated staff complied. But it later turned out that this was a regular session that Roberston had arranged previously like any other. Even in 1922 record labels were not in the habit of simply letting people swagger into a record deal off the street. Roberston would go on to a long career but Gilliland apparently did not record again and returned to Texas dying two years later.
ECK ROBERTSON & HENRY GILLILAND ~ "ARKANSAS TRAVELER";
Polk Miller (1844-1913) ~ Although the Robertson/Gilliland record is considered the birth of the country music recording industry more recent research has turned up earlier recordings that are obvious influencers on later country and blues artists notably the minstrelsy records of Polk Miller & His Old South Quartette made in 1909. From Virginia, Miller served in the Confederate artillery where he learned the banjo. After the Civil War he went into business founding a patent medicine for dogs which grew into the pet supply maker Sargent's (named after his dog) which is still in business. Although he had given up playing music publicly as undignified when he went into business by 1892 the now partially retired Miller started a successful career as a singer and banjo player doing old folk songs from the south backed by a black vocal quartet. Much of their material was meant to glorify the antebellum south and were quite popular, with Mark Twain and Grover Cleveland being fans, and an influence on the next generation of early country and blues performers both black and white notably Uncle Dave Macon, Charlie Poole, Wilmer Watts, Papa Charlie Jackson and Gus Cannon. Miller's attitude is complicated; while he openly revered the Confederacy he also refused to play in black face or had his quartet do so but they instead dressed in dignified formal wear and by all accounts treated them fairly. They did play Confederate reunions but avoided touring in areas where openly racist crowds made Miller concerned for the safety of his quartet. He cited his concerns about the increasing racism of the times when he retired in 1911 and died two years later. The members of the Quartet carried on for a few more years at least before fading from view. However a version of the group reunited in the twenties to record a few more sides before disappearing for good.
POLK MILLER & HIS OLD SOUTH QUARTETTE ~ "BONNIE BLUE FLAG";
James MacNeil (circa 1870-1945) ~ One of the leading black bandleaders and trumpet players in the early New Orleans jazz scene, MacNeil (sometimes also spelled as MacNeal) played in a number of the most popular bands in the city and was considered a rival to the legendary Buddy Bolden and an inspiration to younger players like King Oliver, Bunk Johnson and Freddie Keppard. He led the Onward Brass band along with his fiddle playing brother Wendell (1876-?) and most of the band enlisted in the army during the Spanish-American War in 1898 as bandsmen where they gained a reputation both as musicians and hell-raisers before being mustered out in New York where they made a brief splash on the music scene before returning home. While in NY MacNeil was recorded as making a record (possibly solo) which however has never surfaced which is a shame because he apparently never recorded again, quitting the band and handing leadership over to trumpeter Manuel Perez who would continue it til about 1930 when the depression and changing tastes put an end to them. Their lineup included a young King Oliver for a time. But this version of the band also never recorded. James went on to the more sedate life of a music teacher dying before the post-WW2 Dixieland revival that would rediscover Bunk Johnson could find him. Wendell moved to Chicago and was listed as still being alive in an 1958 index of Jazz musicians but there is no other info on him I can find.
=====================================================================
And one more veteran; Although obviously not part of the Jazz or even Ragtime scenes, I'm including Arnold Schoenberg as the founder of avant garde classical music which would influence later figures like John Cage, Phillip Glass, Glen Branca, Karlheinz Stockhousen, Terry Reilly, George Antheil, La Monte Young and John Cale as well as Hollywood film scores.
Arnold Schoenberg (1874-1951) ~ The father of avant garde composers was drafted into the Austrian army during World War One in spite of the fact that he was already 42 years old, out of shape, asthmatic, nearsighted and with no military training. He was also already a well known composer, notorious amongst the deeply conservative Habsburg establishment for his experiments in atonal music. Given that Schoenberg was also a converted Jew in the deeply reactionary Hapsburg empire he could hardly expect a good reception in the Austrian army. Arnold's own rather prickly personality didn't help. He was greeted by one officer with the words; "You wouldn't have to be that notorious Arnold Schoenberg would you?" To which he replied; "Well yes; I did have to be since nobody else was willing to". Still, he was well educated and so was sent off to officer training in 1916 but was eventually discharged on health grounds. A year later he was actually drafted again, this time to serve in a military band which at least does make some sense, but was quickly discharged again for the same health reasons. Once Hitler came to power he would flee the country and move to America where he would have a succesful career as a composer and educator as well as tutoring Hollywood film score composers.
SCHOENBERG'S 12 TONE METHOD;
And one more with Calixa Lavalee (1842-1891), a French Canadian pianist, organist and cornet player who journeyed south to the USA during the Civil War to enlist in the US Army where he served as a bandsman reaching the rank of Lieutenant and was wounded at the Battle of Antietam. After the war he toured the USA and Canada as part of a minstrel troupe before returning to Montreal where he worked as a music teacher, choir master and composer including his most famous work, "Oh Canada" which would become Canada's national anthem. He ended up in Boston where he died penniless.