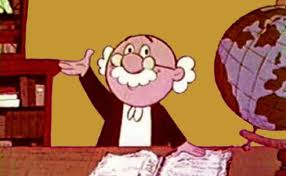 This Black History Month I feature two of the first black owned record labels, Broome Records and Black Patti Records;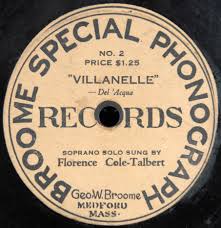 Broome Records was the first black owned & run record label starting in 1919 some 18 months before Black Swan Records, the label commonly noted as the first black label. Running to 1923 or 24, producing a series of records for a number of black artists of the pre-jazz era.
Founded by George Broome, (1868-1941) a black music manager and promoter based in Medford Mass. who had produced Will Marion Cook's musicals and managed singer Roland Hayes, Broome Records was started in 1919 dedicated to producing music that would "uplift the race" which in the early twentieth century meant classical music done in the European style by black musicians and singers. Thus Broome recorded none of the Jazz, Ragtime, Blues or Spirituals that the majority of black folks listened to at the time, preferring instead piano or string recitals, chamber pieces, light operettas, formal spirituals, and speeches. The records were rather expensive for the day and distributed mostly through mail-order from his office in Medford Massachusetts, targeting an audience of fairly affluent, educated, middle-class blacks from the urban north-east & midwest along with a few white patrons and fellow musicians.
Broome Records never had a large catalog or audience and as Jazz became respectable for middle class blacks, Broome was unable to move with the times (as also happened to Black Swan) and stopped releasing or recording new records after 1923. After that date Broome opened a print shop with is son however Broome apparently continued to release records from his back catalog through mail order until his death in 1941.
Because of it's fairly small catalog Broome's records are quite rare and haven't been as fully researched as has other labels of the era such as Black Swan, Black Patti, Paramount or Vocalition. Broome also hasn't gotten the attention it's pioneering status deserves for music historians since he recorded no Jazz, the usual choice of music historians of the era, however in recent years more copies of Broome Records have surfaced and a few articles have been written about the label. The most detailed of which is in Tim Brooks Grammy Award winning book, "Lost Sounds".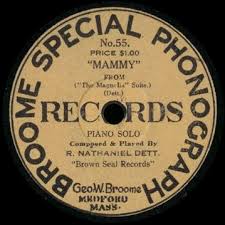 Artists on Broome Records:
~ Henry Burleigh ~ 1866 -1949 ~ Burleigh was one of the best known black composers and singers of his day. Having studied with Czech composer Anton Dvorak (who praised him for introducing the European to African-American folk music and spirituals) he became the first black soloist and later musical arranger for St. George's Episcopal Church of New York, a wealthy and influential white church where he attracted patrons like J.P. Morgan. By the the 1900's he had graduated to the concert stage as a singer, pianist and composer of spirituals in a formalized operatic style similar to that later done by Paul Robeson who he heavily influenced both musically and for his serious presence. In spite of his long career the Broome recordings are his only known records and were not even known about at all until recently.
HARRY BURLEIGH ~ "GO DOWN MOSES":
~ Edward Boatner ~ 1898 - 1981 ~ At the time of his recordings Boatner was a young student of Burleigh who brought him in to record one of his arrangements. Boatner would go on to a long career as a composer, conductor and teacher with students such Josephine Baker. Like Burleigh and Dett the Broome recordings are his only known records. He was also the father of Jazzman Sonny Stitt.
~ Nathaniel Dett ~ 1882 - 1943 ~ Born in Niagara Falls Canada, Dett was a well known pianist and composer of the era, he left a volume of works which are still performed today. He also taught at universities and conservatories in the USA, Canada and Europe along with winning awards for his pieces and essays. Later in life he made many radio recordings but like Burleigh his only known proper recordings are the ones he did for Broome which like Burleigh's were forgotten about until recently. He is remembered in Canada with a choral society, festival and scholarships in his name.
~ Florance Cole-Talbert ~ 1890 - 1961 ~ A classically trained contralto from Detroit, Cole married pianist Wendell Talbert and started singing around 1910 making her New York debut in 1918, recording for Broome in 1919. She toured Europe in 1924 to rave reviews staying until 1927. Known for her showmanship she also recorded for Black Swan.
~ William Leonard King ~ An now obscure pianist who played with Cole-Talbert and other singers on Broome including probably Burliegh and Boatner.
~ Clarence Cameron White ~ 1880 - 1960 ~ One of the best known black violinists of the era dubbed "The Bronze Kubelik" after the Czech virtuoso of the era, White was already well know by the time he recorded for Broome in 1919 and would go on to further fame in The USA Canada & Europe making many other recordings and compositions.
~ Booker T. Washington ~ 1856 - 1915 ~ America's best known civil rights leader of the late Victorian era made a recording of his famous 1895 Atlanta exposition speech for Columbia Records in 1908. When George Broome started up his own label he bought up surplus copies of these discs and rereleased them with new Broome labels making them one of Broome's best sellers and the ones most often found today.
BOOKER T WASHINGTON;
~~~~~~~~~~~~~~~~~~~~~~~~~~~~~~~~~~~~~~~~~~~~~~~~~~~~~
BLACK PATTI RECORDS;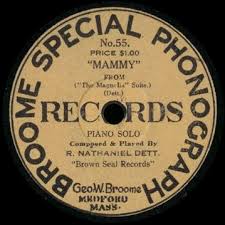 Black Patti Records was the only black owned blues label of the 1920's. Founded in 1927 by Mayo Williams, a former pro-football player and talent scout for Paramount and Black Swan Records who decided to start his own label, Black Patti (named after African-American opera singer Matilda Jones A.K.A "The Black Patti" who did not however actually sing for the label) was set up as a lean operation with an office to scout, sign and promote artists while leaving the actual recording and pressing to a licensing deal with Paramount's chief rival Gennett Records.
Mayo quickly established a strong stable of artists with a mix of blues, jazz, spirituals and even country records, however Mayo had run out of capital by the end of the year and had to shut down the label after only 55 known titles and take a job with Vocalion and Records and later with Decca before again running his own Ebony label in the 1940's. Mayo Williams died in 1980. In spite of Black Patti's short life and commercial failure it has long been considered one of the most collectible labels of the era both for the quality of it's music and the fact of it's being the only major black-owned label after the collapses of Black Swan and Broome records in the early 1920's, and being the last such label until the post war era. Black Patti is also well known for having the most elaborate label logos of the era, with it's golden art deco peacock design which was later copied by the Yazoo label.
Notable Black Patti artists ~ Jackie "Half Pint" Jaxon ~ 1895~194? ~ A diminutive and flamboyant singer of double-entendre jazz & blues as well as a female impersonator known for his wild showmanship which would later influence Cab Calloway and Little Richard.
JACKIE "HALF PINT" JAXON ~ "WILLIE THE WEEPER";
Jaybird Coleman ~ 1908~1950 ~ A respected singer & harpist from Alabama who pioneered the style that would influence both of the later Sonny Boy Williamsons.
JAYBIRD COLEMAN ~ "MISTREATIN' MAMA";
Cow Cow Davenport ~ 1894~1955 ~ Popular boogie-woogie pianist and songwriter who also accompanied various singers including Jaxon. Highly influential on later boogie-woogie pianists in the 1940's & 50's
COW COW DAVENPORT ~ "COW COW BLUES";
Sam Collins ~ 1887~1949 ~ A typical rural singer/guitarist street and tent show performer from the Mississippi Delta notable for his bottle-neck playing, known as Cryin' Sam Collins for his high, keening tenor.
CRYIN' SAM COLLINS ~ "LONESOME ROAD BLUES";
Vernon Dalhart ~ 1883~1948~ William's attempt to appeal to the white country market, Dalhart had been the first million (and multi-million) selling country artist in 1922 but by 1927 his career was in decline having been bypassed by more authentic rural artists such as Jimmie Rodgers and the Carter Family.
VERNON DALHART ~ "BALLAD OF JESSE JAMES";
Mozelle Anderson ~ A typical female blues singer also known as Kansas City Kitty, one of several singers to use that name.
MOZELLE ANDERSON ~"TIGHT IN CHICAGO":
Hattie Garland ~ Another female blues singer who recorded a few sides for Black Patti by which time she had racked up a long career in Allen's Minstrels as far back as 1903 when she is billed as Hattie Beecham; "Our little soubrette who sets the pace singing "Eva" and praised for her "fully developed and well cultured voice" and her hit version of "The Banquet In Misery Hall". By 1907 she was touring in a troupe led by Perry George Lowery, a rival to WC Handy and married Fred Garland, another singer noted for his "silvery voiced tenor" although other listings also have him as a trombonist. (Note also listed in the troupe was Charles Beecham as "comedian and stage manager" and a Blanche Beecham on drums, were they related?). By 1909 Hattie and Fred had left the troupe due to Hattie being ill but in 1912 Fred at least was back at least temporarily taking over the band as Lowery dealt with other personal and business issues. Then she obviously recovered and they seem to have set out on their own. All this suggests that by 1927 she was a seasoned veteran well into her forties with a fairly varied repertoire and her band here is presumably led by her husband. Their subsequent activities and fates are unknown.
HATTIE GARLAND ~ "STRANGE WOMAN'S DREAM";
The Rev. J.M. Gates ~ 1884 - 1941; Although largely forgotten now Gates was one of the most successful black artists of the 1920's as a singing preacher who recorded combined sermons with acapella hymns. In the 1920's it is estimated that an astounding one quarter of all Gospel records were by Gates alone and he probably outsold more famous Jazz artists such as Louis Armstrong, King Oliver or Jelly Roll Morton.
REV. J.M. GATES ~ "AMAZING GRACE";
The Downhome Boys ~ Long Cleve Reed and Little Harvey Hull, a guitar and vocal duet who recorded the first known version of Stack-o-Lee Blues, now one of the rarest and most valuable 78's in existence, with only one known mint copy, owned by collector Joe Bussard, worth an estimated at least $30,000. There are also several records credited to "Harvey Hull & His Orchestra" which seem to be lost but the listing suggests the Hull may have also sang with a more structured Jazz band as a few male blues singers did. Hull, who was also billed as Pappa Hull, is reported to have been born in Mississippi in 1887 making him in his forties at the time of these recordings.
THE DOWNHOME BOYS ~ "STAGGER LEE";
Blind Richard Yates ~ An obscure travelling singer/guitar player, he recorded four songs during two sessions in 1927 which also featured a pianist.
BLIND RICHARD YATES ~ "I'M GONNA MOAN MY BLUES AWAY";
Willie Hightower's Jazz Band ~ A typical popular 1920's hot jazz band led by trumpet player Hightower, other names in the band suggest New Orleans origins.
CAROL DICKERSON ORCH (WITH WILLIE HIGHTOWER) ~ BLACK MARIA":
Other obscure blues singers include Blind James Beck and Ivy Smith.